Hiking the Appalachian Trail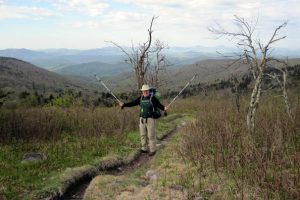 Joel Barks on the trail
A couple of years ago a friend asked me if I wanted to try backpacking.  Fortunately I ignored all my trepidations and said yes because it has become a joy to be involved with hiking, backpacking and trail work.  I find I meet the greatest folks through these activities and would not be having nearly the joy in my life otherwise.
We took a five night, six day, 70 mile backpacking trip on a portion of the Appalachian Trail in southwestern Virginia.  This had us ending out hike in Damascus "Trail Town USA" when they were having their annual trail days celebration.  Five thousand backpackers in one place is no way to avoid a good time.  
What I took away from the trip is the realization that we don't need much to really have a good time if we are with good people and most especially if we can see vistas like what is available from the high points on the trail.  
As I write this I am stopped for coffee on my way back to the AT.  Not a long trip at all this time, just trying to encourage a family member to start backpacking by coordinating a three day high for us on the AT near Asheville, N.C.
Trail crewmembers have some extraordinary adventures when not using the Pulaski and MacLeod.