My Getaway: A Conversation with Olivia Palomares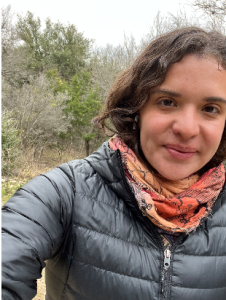 Olivia Palomares is a Digital Marketing Manager at ClosedLoop.ai. Though her company is based in Austin, Olivia has resided in San Marcos for 8 years, having fallen in love with the community during her undergraduate studies. Olivia received both her bachelors and master's degree from the School of Healthcare Administration at Texas State University. Outside of work, Olivia enjoys trail running, swimming, kayaking, bike riding, and yoga. Olivia can often be found on the trails with her heeler mix, Nina.
Why do you value the natural areas?
The abundance of natural areas in San Marcos is what makes our community unique. Within a five-minute drive from my home, I have access to six park entrances. Six! Each greenspace offers a different experience for whatever I'm seeking that day, so I'm never burnt out of the greenspaces in town.
Natural spaces in general are important because of the role that they play in alleviating stress and improving our quality of life. I work from home, so hitting a trail is an important part of my day. I often go to more than one natural area a day. The easy access to high-quality greenspaces in San Marcos is a unique benefit that many other towns don't have.
Who or what did the most to encourage your love of nature/the outdoors? And how?
My parents laid the foundation for my love of the outdoors. I grew up the oldest of four to immigrant parents, and their solution for four high energy kids was to take them to a park every single day. Once the Trail de Paris in Paris, Texas took off, my family visited it almost daily.
In the fifth grade, I started running with my dad and never stopped. Running is common in my family. I have an 80+ year-old great aunt that won first in her age group in a 10k, and have a 72-year-old relative who can still beat me in a 25k.
Because visiting parks and running were so consistent in my life, I've looked to them to help me with stress and maintain my footing in the world as I've become an adult.
What is your favorite trail? What do you like about it?
My favorite trail is Dante. I like to start a run from Prospect Park and find my way onto Dante all the way to the Upper Purgatory entrance. It's always fun and gives me plenty of time to think about whatever's going on in life.
What do you most enjoy doing when you visit the Greenbelt?
I enjoy running distance. I've been running since I was in middle school, though back then it was on the Trail de Paris in Paris, Texas. Now I have access to vast greenspaces that I cherish.
What recommendations would you give new users of the trail?
My recommendation to new users is to bring water, have a map of the trail on your phone, and let yourself explore new trails. Purgatory and Spring Lake are great natural areas. I've been using these trail systems for 8 years and still manage to find something new every time I'm out. Also, respect the trails. These areas are beautiful, and we should keep them that way.