They Call the Bridge Matilda
One of the most impressive and visible accomplishments of SMGA in 2020 was the completion of Matilda, as the bridge in Lower Purgatory is known. To acknowledge this achievement, the Daily Record ran this article by Celeste Hollister on June 28.
---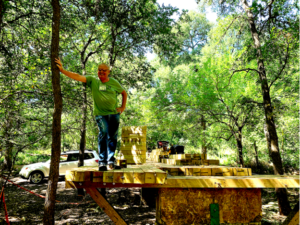 Back in 1998, San Marcos looked quite different from how it looks now. Some shops on the Square stood vacant, several of the university buildings that define the skyline hadn't been built, and San Marcos had yet to secure most of the natural areas it possesses today.
Over the last twenty years, the San Marcos Greenbelt Alliance – with assistance from a National Parks Service grant – has been piecing together land in sweeps and parcels to create the Greater San Marcos Greenbelt Loop, a trail system that will eventually encompass the city.
"If we get that," said Sherwood Bishop, President of the San Marcos Greenbelt Alliance, "San Marcos will be the only city in the US completely surrounded by parkland."
Bishop, along with members of the City of San Marcos Parks and Recreation department, has been instrumental over the years in securing over 1,200 acres of environmentally-sensitive land for protection from development, an impressive feat for a town that has charted steady growth for the last three decades. According to the SMGA website, San Marcos now has six natural areas with more than 22 miles of trails. Natural areas such as these are integral to providing flood mitigation and wildlife refuge, as well as recreation, exercise opportunities, and outdoor classrooms.
Over time, Upper and Lower Purgatory Natural Areas gained popularity. Soon, visitors noticed that several stretches along the trail become impassable when it rains. One such section along Dante's Trail floods after every downpour, creating a large pond that cuts off the Hunter Road trailhead from the rest of the natural area below the dam. "is frequently leads users to forge their own paths in order to skirt floodwaters, a task that becomes impossible for those with limited mobility.
"As a group, [Leadership San Marcos] recognized there was a gap in accommodations and accessibility for everyone to enjoy the natural areas," said Carina Boston Pinales, LSM 2019 class member and CEO of Splash Co-working.
As the Leadership San Marcos Class of 2019 began seeking potential solutions to the problem, they crossed paths with Bishop and the SMGA, who had already been in discussion with city officials to build a bridge they had named Matilda.
But why Matilda?
"The names of the trails and creeks in the Purgatory Natural Area come from Dante's Purgatorio," Bishop explained. "Dante wrote about going through Purgatory toward Paradise. In one part, he must cross a river. A woman named Matilda appears and carries him across. So Matilda was the perfect name for the bridge."
According to Bishop, Matilda will be about 200 feet long consisting of 50 feet spans and two causeways.
"It's a pretty big project," Bishop said. "Leadership San Marcos volunteered to raise the funds for us. Building it has been such a big project that if we had to raise the funds for it, too, it would have been pretty overwhelming."
Members of the Leadership San Marcos 2018-2019 class held fundraisers to secure over $10,000 toward the construction of Matilda, while also acquiring a donation of $1,500 from McCoy's for building materials. SMGA volunteers have already made headway on the bridge's construction, but the events of 2020 have presented their own set of challenges.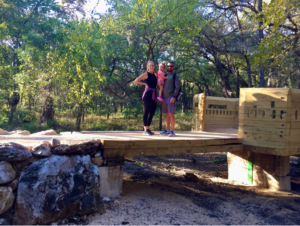 "We're getting there," Boston-Pinales said. "Rains, COVID, and manpower has not helped speed things up."
Bishop elaborated on the combined effects of this spring's wet weather and the coronavirus on Matilda's progress.
"We used huge boulders locked into each other so they won't fall down over the years, which involves crews of people getting together," Bishop explained. "We had gotten most of the approaches built, but then we had this really wet spring. Now that it's finally dry again, we can go in with heavy equipment, but all of the sudden we're closed again. A lot of our trail crew members are gray- and white-haired people," he said. "We don't want them to die. So we decided we better wait until [the virus] slows down again.
Even with recent setbacks, Bishop said he felt confident that Matilda would be completed soon, adding a crucial piece of the puzzle to this comprehensive trail system unique to our city.
LSM Class of 2018-2019 graduated Tuesday, June 23, 2020. Class members are Ramika Adams, Dana Breed, Laynie Ash Castro, Michelle Mehrens, Preston Riley, Jolind Tays, Carina Boston-Pinales, Chet Reed, Parker Patterson, Emily White, Aisling Niestroy, and Amber Walsh.
Leadership San Marcos is a civic organization dedicated to identifying, informing, and educating individuals to participate in programs and activities that will improve the San Marcos community. For more information about Leadership San Marcos, visit the website at leadershipsanmarcos.org.